Opiniones de clientes

Por 18 años Sports Traveler ha servido a miles de fanáticos de deportes del todo el mundo. A continuación se presentan algunos de los comentarios favoritos de nuestros más satisfechos clientes. Nos encanta escuchar los comentarios de nuestros clientes anteriores. Por favor, deje sus comentarios y háganos saber cómo estamos haciendo.
Los Mejores Comentarios
Escribe tu propia opinión
Lee Nuestros Mejores Comentarios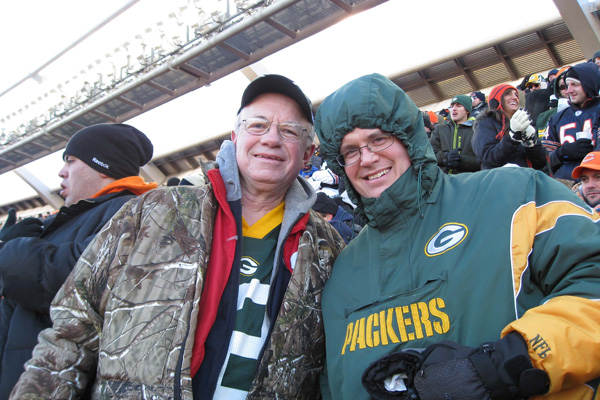 (When FedEx misplaced the Balla's Green Bay Packers vs. Chicago Bears Tickets, our team pulled together to get the tickets reprinted and hand delivered just in the nick of time!)
"I want to personally thank you for going above and beyond the call of duty to get the boys into the game. I know that it really meant a lot for them to be there, and all the work you did was wonderful. And to have the boys there when the Packers won the game was the best ending to what could have been a disastrous situation. Thank you so much!"
Michelle Balla
---
Thank you so much!! We had an amazing time! Everything was planned exactly as advertised. I am thankful I found your company and was able to provide such a surprise for my brother. I will be recommending your company to others and for our future trips!

Nicole Meddock
2015 Chicago Cubs Trip
---

"My family and I would like to express our deepest appreciation and gratitude for all the hard work you and your company did to make our 2008 Beijing Olympic experience the best ever. We planned this trip for many years and are so glad that we entrusted Sports Traveler with the arrangements.
We know how hard it was to secure our tickets for the Opening Ceremonies. We spoke with so many other travelers who did not get their tickets (from other companies) and were understandably upset and disappointed. Thanks to you and your team we were able to attend this once in a lifetime experience. Your patience, persistence and passion to meet your commitment will always be remembered and much appreciated. You truly did make our dream come true.
Sports Traveler can only be described as "The Best" when it comes to sports related traveling and ticketing. Thanks again for your hard work."

Best regards,
Lyndon S. Low, DDS
2008 Summer Olympic Games
---
"Sport Traveler sets the gold standard. Your professionalism and knowledge coupled with outstanding customer service made our London 2012 Olympic experience exceed expectations. Wouldn't consider letting anyone else handle Sochi 2014 for us. Good job and see you in Sochi!"

Mary Cockerline
---
"I just wanted to thank you for all your help getting us to see our Buckeyes in the BCS....and although the game wasn't that fun (Ohio State lost), the experience was and our hotel was WOW! So once again from all of us, THANK YOU and we will def use you again!"

GO BUCKS! Angela
2007 BCS National Championship
---
"Booking an all inclusive trip like this was a first for me. Wasn't sure how it would turn out, but in a word WOW!!! Sports Traveler delivered way above what I expected. The hotel was superb including the free full breakfast. The tailgate party was just fantastic! We had our own DJ who was the bomb!!! Food was great and the drinks flowed. Rascal Flats put on a free concert which was unexpected. Our seats were great and the tour was fun. Our site representative Mike Maksym was both personable and professional. I have not one bad thing to say about Sports Traveler. They are now my families 'go to' provider for sporting events!"
Brenda Crow
Dallas Cowboys Travel Package
---
"I want to thank you, as I took a chance with you your company never hearing about it. And this was especially a risk as the event was my Wife's 50th birth day gift, as she just loves Nascar, and has always wanted check out Talladega Alabama.

You guys made everything so great !! Thanks, not to mention that it was a rainy weekend for both nation wide and sprint series races, seemed like the 24 hours at Talladega , both races where rain delayed , and you guys hung in there with the great Buses, during the rain delays we met so many nice people , and honesty had a super time. Both races where started and completed,

The Marriott hotel was outstanding in their service and it was great having everything right there.

Shane your on site representative was a great and upbeat host representing your company. He even put together a rain theme songs on a cd, to listen to on the way to the track and has so helpful in showing us the ropes as where newbies being the 1st Nascar experience.

Dave the bus driver, Wow what a great guy, as I have to say that he got us there, and he hung in , remember both races went to 9 o'clock. He managed to find great parking spot so the walking wasn't that bad, and very close to are seats and venue.

All in all, I we will definitely be seeing another race with you guys,, Thanks so much !!!!!"

Victor & Trish Attard
Thorton, ON
2013 Talladega 500
---
"My wife and I along with our 2 daughters attended the events of float preparation, the Rose Parade, and the post parade showing. We were very pleased with all that Sports Traveler had lined up. Our parade seats were excellent and our arrivals and departures worked well.
You are to be congratulated on a job well done with wonderful guides. I will recommend you to all our friends should they! be interested in attending the Rose Parade. "

Dean & Carol Decker
2012 Rose Parade
---
"What can I say! WOW!!!! Had a great time, no hassels or confusion. Checked in to hotel and was super suprised at how big the room was. Loved that we found such a great package deal without having to scour the net too much. Price was great and the hotel was awesome. So close to everything. Liked it so much booked our trip to the BCS Game as soon as we got back!"

Trudi Collier
2010 SEC Championship